DALGAR S.A. IS COMMITTED TO THE ENVIRONMENT
DALGAR S.A. has joined the Environment Responsible Care Program. This means that the company has voluntarily agreed to include Safety, Occupational Health, and Environment Care as core company policies. We are committed to make our best effort to constantly improve our practices and facilities in these areas.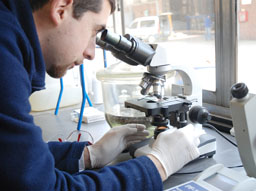 Our Quality Control and Development Laboratory has state-of-the-art equipment and technology, such as the Agilent Technologies HP6890 Gas Chromatograph.
All raw materials and products are controlled and analyzed at reception.
All manufactured products are controlled and all processes are analyzed.
We contribute to the Garrahan Hospital's Recycling Program.
Certificates of Analysis are provided for each delivery.
DALGAR S.A. AND THE COMMUNITY
DALGAR S.A. seeks to collaborate with and contribute to the community where it operates, fostering growth and improvement: we have a cooperation agreement with EQUIDAD, a foundation to which we donate computers and other equipment we no longer use, for their repair and reuse. We support and help ABC PRODEIN, a foundation devoted to the sustainable development of children in need in our community. We also collaborate with other community institutions, such as the local police station, fire fighters, and ecological police department, for them to be suitably equipped and in furtherance of their growth.